Malaysia Quantum Hand Spray Sanitizer
EC Specialty Supplies has launched the Quantum hand spray sanitizer solution for Malaysia market.  In Malaysia, we can find many alcohol-based hand sanitizer product but less in hypochlorous acid based.  With the existence of Quantum Hypochlorous acid sanitizer solution, the consumer has other choices for improving personal hygiene.
Hypochlorous acid is the main active ingredient for Quantum series hand spray sanitizer.  The pH for Quantum hand spray sanitizer fall between 5-6, and this range is favour for human skin.
Why Hypochlorous Acid as Main Ingredient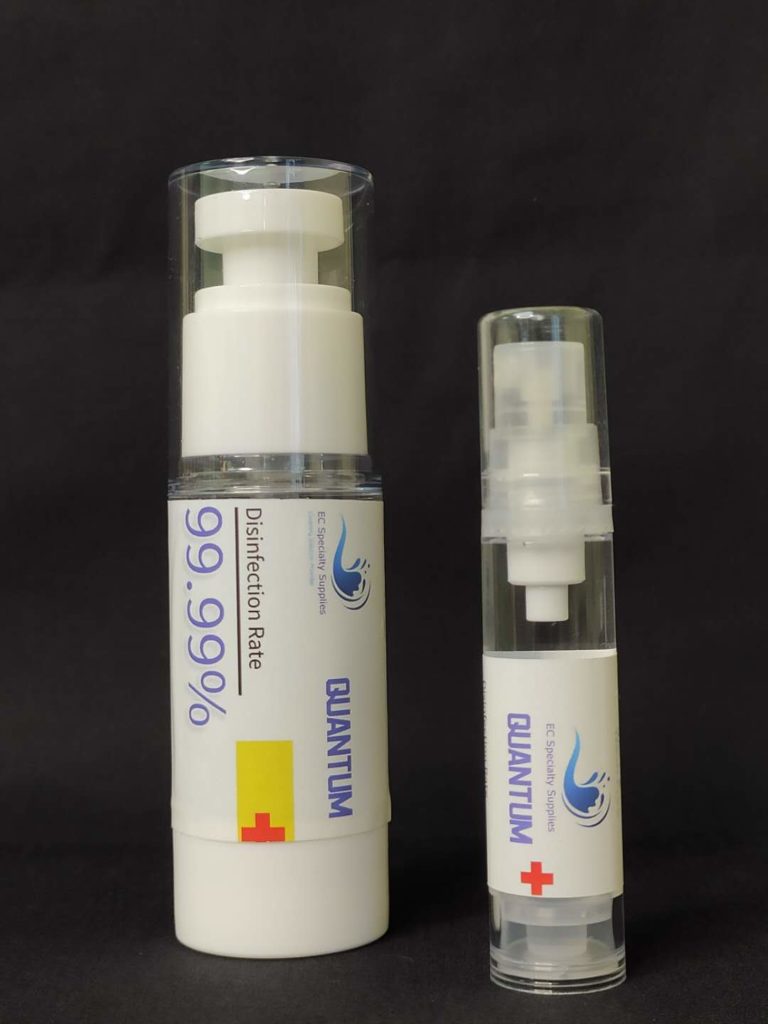 In the human body, the neutrophil cell will generate Hypochlorous acid act as a self disinfectant substance to kill the invaded microorganism.  In other words, Hypochlorous acid is an important substance for our human immune system.
Hypochlorous acid is a good oxidant substance.  The Oxygen element (O) is released throughout the disinfectant process, and the Oxygen element will react with protein chain and causing damage to virus or bacteria.  Through many types of research, it shows Hypochlorous acid is having an excellent sanitization efficacy against various viruses.
Is Hypochlorous Acid is effective in disinfectant purpose?

In the US, the EPA agency has included Hypochlorous acid solution as an effective disinfectant for COVID-19 and SAR virus. In Malaysia, we are very proud that Quantum Hypochlorous Acid disinfectant solution has gained recognition for the domestic market.
Feature for Quantum Malaysia Hand Spray Sanitizer
Hypochlorous acid is a strong oxidant which is a good characteristic for disinfectant purpose.  Apart from this, there are several advantages for Hypochlorous acid solution which we use for sanitizer purpose.
Mild acid solution with pH 5-6, the pH similar to human skin.
No burning feeling contact with skin.
Fast sanitizer result.
Alcohol free
Due to the above characteristic, we conclude that the Quantum Hand Spray Sanitizer suitable for every people this include kid and a pregnant lady.  The user could spray the sanitizer on the pet body or car for the disinfectant purpose.
Quantum Hypochlorous Acid Specification
EC Specialty Supplies specially formulate the Quantum Hypochlorous Acid Hand Spray Sanitizer, all the product go through our dedicate process.  The entire product will be tested in batch basic to ensure the conformances before packing and ship to a customer.
How I could know my purchase Quantum Hand Spray Sanitizer Data
We will enclose a QR code in the packaging and user could just scan the QR code to obtain the conformances data for this particular batch.
Here are a few important parameters for Quantum Hand Sanitizer.
Product Code
Product Description
Batch #
Mfg Date
Expiry Date
Odour
pH
Chlorine Content
We will include a QR code on every product so that customer could scan and read the product data.
Research has shown that Hypochlorous acid is a save and non-toxic product, it could even use for eyes-lid cleaning. However, the formulation for Quantum Hand Spray Sanitizer is meant for EXTERNAL Use Only. User shall not use for internal consume even though it is a non-toxic product.