Chlorine Dioxide Tablet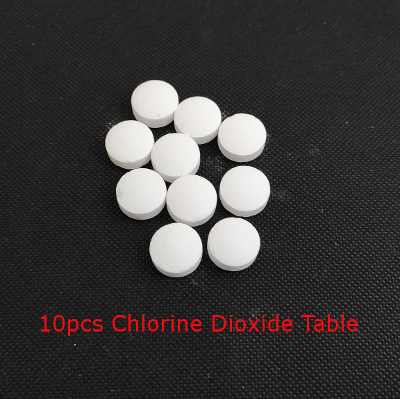 EC Specialty Supplies supplies Chlorine dioxide tablets for industrial and commercial uses.  Chlorine Dioxide is an effective disinfectant used for ambient and surface sterilization purposes.  Both the Oxidation and Chlorination effects make Chlorine dioxide even more effective than bleach solution (Sodium hypochlorite).
A chlorine dioxide tablet is a white colour tablet that releases a mild chlorine odor.  It is an effervescent tablet that diluted in water.  Since the tablet is placed in the water, hence the discharge chlorine dioxide gas is diluted in the water. The water diluted with chlorine dioxide will turn yellowish.  However, as a safety precaution, you have to avoid direct inhale of chlorine gas.  In general, handling of Chloride Dioxide tablet consider straight forward and simple.
The effervescent Chlorine Dioxide tablet is an effective and ease handling for sanitizer purpose. You could dilute the tablet while needed.
Making Chlorine Dioxide Stock Solution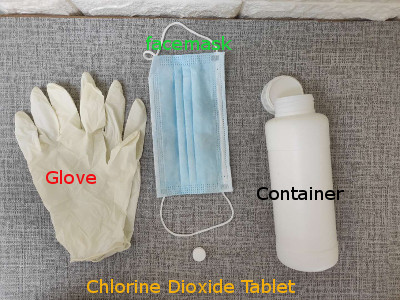 Dilute tablet form Chlorine dioxide into solution form is very straight forward. Below are the preparation and procedure for guidance purpose.
Preparation:
Hand glove
Facemask
Eye goggle if without glasses
A container could store 1L water
Chlorine Dioxide Tablet
Mixing Place: Outdoor with good air ventilation
Application Procedure:
Prepare 1L water in the container
Wear appropriate PPE materials such as facemask and hand glove
Takes out 1 Chlorine Dioxide Tablet
Put the Chlorine Dioxide tablet into the 1L water container
Wait until the tablet form chlorine dioxide release into the water
Thoroughly rinse both hands after the solution make-up
Make up Working Solution for Chlorine dioxide
The yellowish colour of the chlorine dioxide solution should be further diluted before surface sanitizer purpose. Now you have the stock solution for chlorine dioxide solution.  The stock solution has to further dilute into a working solution before apply in the sanitizing process.  The stock solution should dilute in a 1:3 ratio, as such you will get a 20ppm concentration of chlorine dioxide working solution.  We have to immediately consume the solution after mix up.
The remaining chlorine dioxide tablet closed in a container with an appropriate label.  The container shall be kept in a ventilated area without direct sunlight and heat. The effervescent tablet will degrade and smash into tiny particle if get in contact with moisture.
Chlorine Dioxide solution is not favourable for long time. This osidation solution will degrade while in contact with UV light.  The Chlorine Dioxide shall dissociate into Chlorine and Oxygen gas.  In the application, the stock solution should be consumed within 1 day time to ensure acceptable disinfection strength. But it depends on the storage condition.
Hazardous Statement for Chlorine Dioxide
As mention at the beginning of the article, we have to summarize certain precautious guidelines or hazardous statements so that users could avoid any accident occurrence.
The Chlorine Dioxide tablet shall handle with dry hand.
Wear facemask, glove and other relevant PPE equipment.
Avoid direct inhalation.
Avoid contact with eyes.
Wash thoroughly if touching the skin.
Stored the Chlorine Dioxide in cool, ventilated space. Away from direct sunlight and heat.
We do provide the SDS for Chlorine Dioxide Tablet for industry and commercial user.
EC Specialty Supplies supply high quality Chlorine Dioxide tablet for industry and commercial application.  For household user could also make use of this tablet for house area sanitizing purpose.  In case you need further information about sanitizer, please do not hestitate to contact us.