PVA Sponge Roller Life Span
The user wants to know about the PVA sponge roller life span, this is one of the frequently asked questions.  DST is a sponge roller supplier in the cleaning industry, we are very concern about the sponge roller we supply, we do determine our sponge roller life span so that our user could have a guideline while using the sponge roller in the cleaning facility.
PVA Sponge Roller Life Span
We are very conservative about our sponge roller.  Base on our test result, our sponge roller is able to maintain good condition within 6 months period from the manufacturing date.  The 6 months life span also confirmed by many of our users who use PVA sponge roller in the facility.
Why 6 months life span?  There are 2 important criteria we monitor while determining the sponge life span.
Bacteria Growth. You will see some black spots on the sponge surface while there is any micro-organism growth.  This could be the mould symptom as we commonly have seen.
Ageing Effect. Ageing is a deteriorating effect.  The sponge will turn yellowish, dry off or even getting hard or lose the sponge elasticity while getting age.
Packing Method for PVA Sponge Roller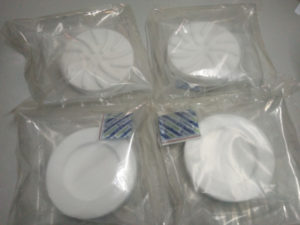 Our Sponge roller is packed with a double layer PE plastic bag.  The PVA sponge roller is packed under the wet condition and there is another layer to ensure the inner water vapour transmission rate is maintained at minimizes the condition.
We keep a desiccant sachet in between the bags.  The sachet size of the desiccant is kept as an indicator to monitor if there is any leakage in the packing bag.
Storage Condition for PVA Sponge Roller
Sunlight and heat are the 2 keys factor affecting sponge quality.  The sponge roller shall keep in the original packing condition until it ready to use in the cleaning facility.
In order to ensure the sponge quality, we always recommend the user to keep this sponge in a sealed box.  This is to minimize light transmission on the sponge roller as this will accelerate the sponge deterioration.
Furthermore, we always recommend our customer could set up a changing schedule for sponge roller.  Moreover, DST will supply the sponge roller to follow the appropriate sequence, this is to avoid the lot shall not keep for a long period.
DST has focused on the cleaning industry for many years, we are working with our customer's hand manner in order to overcome the cleaning challenge.  We also render our cleaning services beyond Malaysia.  Please kindly contact DST if you are facing challenges in your cleaning process.